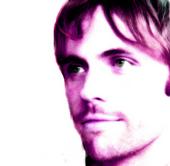 All artists presented in here are songwriters and composers also performing their products. Tobbe Möller is a songwriter and a composer who's performing solely for practical reasons, as he puts it.
There's something special about Tobbe Möller, something supernatural, maybe even godlike! He may for real be the best songwriter in the world, but I'm not sure he's aware himself.
I see Tobbe like a fairy dressed in an armour you don`t easily penetrate. But just as Tinkerbell sprinkles river glitter (or whatever) over people in need, he does the same for his tunes.
His are lyrics that are incredibly strong, clever harmonies and changes of chords, and melodies a raging bull won't shake off.
Offered here is an early work, "Too Hard to Chew", aside two later ones where Tobbe worked with other musicians. In "Young Boy In the Far Back Row" he got together with Lasse Söhr and singer Isak Strand.
Other recent collaborations include names as Pär Edwardson, Aurgrunn and Pär Enqvist.
Early works by Tobbe Möller maintain a feel of old rock/punk music with pumping Rickenbackers and delightful choirs; do listen to Purple Foxglove on his Myspace-page. Then rapidly switch to Tonårsbarn (Teenage Kid) or "Skakar inte mer" (Shaking No More) and enjoy the breadth of the man!
If you're interested in the music or want to work with the originator, visit his Myspace page.
Now do enjoy the songs presented:
Lose Your Head
Young Boy In the Far Back Row
Too Hard to Chew

Visit Tobbe Möller:
Tobbe Möller på Myspace
Keep cool,
Jeppe
(translated by Aurgrunn)