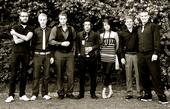 Gustav Haggren is an extremely busy musician! It's obviously not enough that he has a solo project, plays with two other songwriters, Christian Cuff and Helena Arlock, and is coordinating a world band (yes, they are spread all over the world); he is also touring all the time! Go and check out his tourdates for 2007…jesus!
Nevertheless, it seems like it's among the seasick sailors that Gustav likes it best. And it's from this constellation the songs below comes from.
The first song I heard is from 2004, "Vagabond's Polka", and it feels like I'm invited to Montmartre, Paris. There's a fantastic Tivoli-feeling here!
And when I listen to "Something Weihtless" I hear great pop with hit potential. Overall, there is an incredible mix of songs I find with Gustav and the Seasick Sailors.
On Friday the 26th of September, they will celebrate the release of their new album "Brilliant Hands" on Tivoli in Helsingborg. Check out the info on their Myspace page.
Listen and download some tracks (Vagabond Polka is a live song with a slightly less sound quality, but I have included it because of the great feeling here. I hope I'm excused ;-)):
Something Weightless
Nightlife
Vagabonds Polka
Distant Mornings
Visit the band:
Gustav and the Seasick Sailors on Myspace
Their homepage and blog
Keep cool
Jeppe