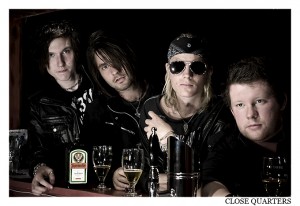 Close Quarters is the band from Vadstena that, without any management or label, has lined up one gig after the other, been in the studio with the well-known producer Thomas Skogsberg (Entombed, Hellacopters mfl), performed at club gigs in England and lately fronted both Takida and Backyard Babies. Completely on their own.
In other words there is an exceptional driving force in this gang, stronger than any you'll find among many other aspiring artists. If you combine that with quite a bunch of fantastic songs, it's only a matter of time before Close Quarters will explode up in the rock heaven.
This is a real band that plays real rock'n'roll the way that real rock'n'roll should be played. And I love every second of it! The guitar riffs shred like razor wire, the rhythm section comes booming in like a freight train and the singer's voice bleeds like an open wound. Heart and soul all the way!
Close Quarters surely has a great future, but they will hardly stand still waiting for it.
They want it all…now!!
So listen to and download the songs below and visit the band for more:
Only In It For the Chicks
Go Away
Stand Up Fightem
The song Time from the gig with Takida and Backyard Babies: