This is the next part of the series The Artist's Story, which started last week. The storyteller today is the author and troubadour Niklas Aurgrunn, who released the song collection "Aurgrunn sjunger Aurgrunn" in 2009. As a writer he's published novels, collections of poetry and children's books in Swedish, among them "Kackerlacka", "Fallens dagar" and the children's book "Eulalia Stjärnvind" ("Eulalia Starwind"), where the last mentioned book was published in English earlier this year.
Niklas Aurgrunn and Björk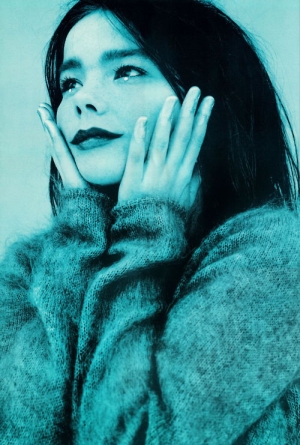 It's a small room at the foot of the Maria hill in Stockholm, it's night and it's late fall or much too early winter one of those grim years in the beginning or towards the middle of the nineties before the skinheads on the quay across the water rise to go buy some suits on their way to parliament and the trains that shoot out of the granite massif of Södermalm rattles the tripple window panes and the orange light from the bridge rolls its unbearableness over the woundy wallpaper, over the beautiful blue-striped Venice map pinned to it and over the huge framed black-and-white portrait of king Gustaf V that I brought home from a second hand shop on Götgatan in an attempt to be funny and the tiny television set is flickering of the schemes and intrigues in a womens prison somewhere way down under in another world that can't be abided either and I suppose there's a humming from the ventilation drums behind the thin plaster bords as usual but I keep my eyes shut, pressing the earphones tighter around my ears, repeating, over and over – naked and escaped, shivering and desperate, alone with only fragments of dream, splinters of the not even very old visions, and what possibly may be reassembled.
"Self sufficience please…get to work…you're on your own…and if you complain once more, you'll meet an army of me!"
That comfortably confused perspective, you could actually take it in, take it to heart; it worked. The little portable player revolving and buzzing on top of my pale and sunken and alarmingly rumbling stomach and "Post", my second cd (the first of course being "Debut"), the stubbornness of those songs, the marching chaos, the contemplative noice! An army of me, it was hardly my state of mind after a long and winding divorce but all the more necessary this music and the force of it, the nourishment and the inspiration. (And I wasn't exactly alone in this experience: ten years later a record was released with some twenty remixes of that particular incantation.)
A smile askew in the night, the memory of actually writing to my wife a couple of years earlier (going into that prolonged farewell) that I had lost my heart to an islandic singer but that I was confident the two of them would be able to get along just fine, and of her indignant answer that she had no intentions whatsoever getting entangled in triangular drama.
That I've been there, standing in that window with bare feet glued to the floor boards, gazing down the alley where two boozers were taking turns kicking eachother in the blockhead. And that she stood next to me, the girl from Reykjavik, the daughter of the union leader and the activist, whispering and screaming of possible continuations with something stifled and just controlled in her voice that took me apart and put me together again as effectively every time, all night, all of the fall.
"I miss you, but I haven't met you yet…uncertainty excites me…in a heart full of dust lives a creature called lust…as much as I definately enjoy solitude…possibly maybe, probably love…"
About the perpetually new-born inconceivableness that is Björk one might of course state and poetize until the last of the Vatnajökull glacier oozes away and condensate above the black lava expanses, but enough is to be found elsewhere, googling…
As for me I lost close contact after "Homogenic" 1997, one has ones eras and epochs, and I guess I just wanted to grab the opportunity to remember and celebrate that one sweet and nasty time together. And so I have.
PS. The influence of Björk over my own music-making is hard to pin-point, but it's a given that everything went easier and more enjoyable after Björk. If she took the liberty to do whatever she felt like without looking around, why wouldn't I…
A Swedish artist to give some extra attention
Got to know Karl Ove Blomqvist and his amazing voice on the now sadly deceased demo site Allears some six years ago. He is normally heard in english but I was lucky enough to have two poems set to music and recorded by this great singer and musician. One of them being this little…anthem.
När jag blev mindre igen ("Getting Younger Again")
One of my own songs you should listen to
It's already a few years since I last recorded something, whatever the reasons may be. Time, space. The books, obviously, and the children and the bread that's got to be won. And of the songs put in The Lumber-Room Studio in Jordbro way back when (2008?) I pick this one, maybe because I don't entirely or even half-way understand it yet (although I divine quite a lot). "Saligheten" ("The Blessedness") wrote itself under my bewildered supervision the night after attending a concert with Anders F Rönnblom at Community Hall in Handen (guess it took some fifteen minutes), and as I remember it was recorded in somewhat the same manner the morning after. That's the way to do it.