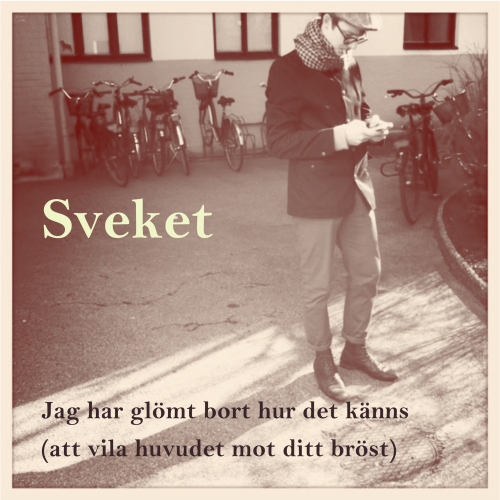 The duo Sveket, which was formed by Magnus Olsve and Mattias Pettersson three years ago, released their first single in the beginning of the Summer, "Jag har glömt bort hur det känns (att vila huvudet mot ditt bröst)". There's broken hearts and longing and a journey to Swedish pop nostalgia from the sixties, where you'll even find a melodramatic bridge sung with trembling voice.
A new single, "Din frusna hand", is being released September 3rd, and later in Autumn an EP. I asked Magnnus about the band name Sveket ("The Betrayal"):
It came about during a wet and intense night in Stockholm. The hagberry and the lilacs were blooming, the Summer was in it's infancy and our hearts were longing after someone to hold hands with. We thought that the name circled the fundamental with Sveket and ourselves; love's heart, pain and longing and the highly emotional beings we are, I and Mattias. A longer version also includes that we bought food for some hungry homeless people. We like doing things like that. Making other people feel warm and happy.
(transl. from Swedish)
Follow their band on their site and on Facebook.
Jag har glömt bort hur det känns (att vila huvudet mot ditt bröst)