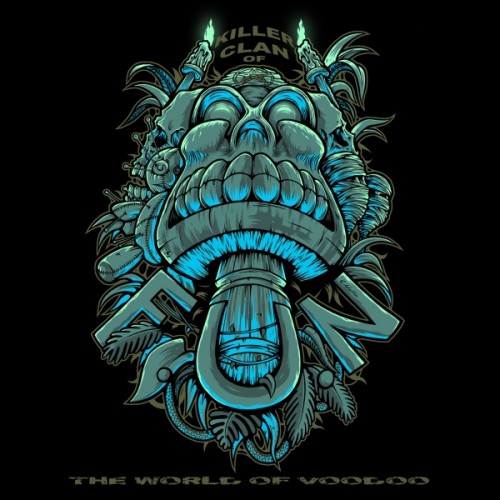 After I wrote about Killer Clan of F.U.N.'s debut album in 2009, I came in contact with the band, and we started talking about a collaboration, which also was started soon thereafter. A little more than two years later we could present the band's second album in the beginning of this Autumn, through my label Blindmen.
As it's Christmas time the band wanted the entire album to be available for free download, and since the journey started, in a way, here on Meadowmusic, I thought it would be a good place to announce it in a post here. I have added three songs here below and if you'd like to listen and download the entire album you can visit Killer Clan of F.U.N.'s Bandcamp page.
I think it's a wonderful album and also a fascinating journey to be a part of. They are a hard working rock band who have played at all possible and impossible scenes during the last two years. There's an unstoppable and positive energy within this band that sometimes amazes me. It doesn't seem to matter if they are playing a large venue or if they are playing on a small stage in front of a few visitors in pouring rain; it's always 100% energy and focus. Well, I guess that's what rock'n'roll really is about, a kind of joy of life through the music and a strong wish to share it with others.
"The World of Voodoo" is an album where the band pushes their rock frontiers even further. If the debut album mostly was about straight classic hard rock, now more influences have started to show themselves more clearly. One of them is a strong punk vibe you can hear in several songs, which goes hand in hand with the singer Maniac's expression and lyrics. All in all it's a great varied rock'n'roll adventure which I hope you will enjoy.
The band experienced a setback some week ago as the drummer Big Boned Barabas left the band, and they are now searching for a new drummer who can join them on tour next year.
To follow Killer Clan of F.U.N. you can visit their site or their Facebook page. The album is also available on Spotify.
If you like the cover illustration above I recommend having a look at Christian Wallin Illustrations' site. Christian is one of the guitar players of Killer Clan of F.U.N. and also works as an illustrator. He's produced covers, logos and illustrations for a number of rock bands and rock festivals like for example Hardcore Superstar, Sister, Close Quarters, Skogsröjet et. al.