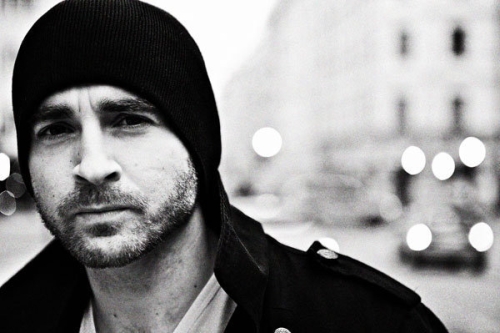 If the page here on Meadowmusic seems extra slow today, don't worry, there's nothing wrong with your Internet connection or our web server, the reason is that I'm presenting a song by Nomy today.
The last time we did that all our band width limits were more or less crushed after a while and in the end I had to remove the mp3 file. The song was  "Cocaine", a song that exploded over the net, not because of our post, that was just a drop in the oceans, but because of Nomy himself.
Nomy, or Patrick Marquardt which is his real name, is something of a net phenomenon among DIY-artists. I have followed him since 2007 when he participated in a music community called Allears.se, a site created by Sony where people could listen to and review music. It was also populated by a few A&R people from major labels who also reviewed songs in the hunt for the next hit artist. While many listeners celebrated Nomy's songs he got mostly negative reviews from these "pro's" and was more or less neglected by them.
It's a mystery to me how they could miss this penalty shot in front of a wide open goal, but for Nomy it didn't matter in the end, as he was fully capable of making it on his own. He had a big following already then, and this following grew stronger and stronger, I'd say explosively. To give you an idea about this we can look at what happened after he released his songs on Spotify in the autumn in 2009: In October the same year he had 100 000 plays reported and less than half a year later 8 million plays had been registered and he was on the top ten list of the worlds most popular artists on Spotify.
That's not too bad from an artist that records his songs in his home studio and where the traditional media like TV, radio and newspapers haven't been involved at all in the process, well not even music blogs. Most of it happened by word of mouth, of course emphasized by the Internet.
It's a mistake to believe that this just happened by itself, like some rare strike of luck; behind this success of spreading his music is 15 years of hard work, a big productivity, an ability to satisfy the fans in the right way by giving away music, communicating, showing what he's working with, being himself, and of course fantastic music.
You can recognize his special style of furious Nomy-rock on his albums, his musical trademark, but still he dares to do whatever he wants to do, whatever he is inspired to do at the moment and he refuses to fall into the predictability-trap; he can produce songs in Swedish, he can do country inspired songs, electronica or whatever he feels like.
Well, this became more of a tribute post about Nomy, which I think he definitely deserves, but of course, there's a song also, "A Dream For the Weaker", which was released in September. In the beginning of the year the energized "By the Edge of God" album was released and more are on it's way pretty soon. You can keep track of this on Nomy's site and on Facebook. Listen on Spotify and other streaming services.
Right, I mustn't forget to comment on the artist name, where it comes from. Nomy explains:
Mix Moby and Bono and you get something that's like a bitter after-taste J Nomy.
Support the artist: Buy Nomy's music – on iTunes – on Amazon