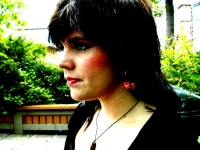 Safari is the lovely AnnaSara Dahrén with guests. I have talked to AnnaSara a couple of times, but never met her, yet it feels like I know her so well. The warmth and the kindness that comes from her I feel so well also in the music she creates.
In the production of the songs "Me and You" and "His Majesty", AnnaSara have worked with Daniel Lindblom (DiLeva, Mora Träsk et al). The songs are very well balanced and produced in way that it feels very intimate. In "Me and You", Christer Björklund plays the drums and Olle Nyberg the piano.
The song "In Time", recorded with a pocket recorder, gives the same feeling, although entirely acoustic. This song is cowritten with Anette Skåhlberg (lyrics), and her father, Ingemar Dahrén, plays the guitar.
Three fantastic songs:
Me and You
His Majesty
In Time
Visit Safari
Safari on Myspace