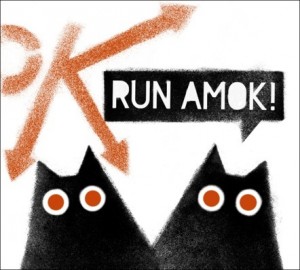 So it's time again to pick up my keyboard fingers. For a while my inside has been trying to formulate som thoughts about the album "Run Amok" (Svedjebruk), which is a co-op between the MC Porno and his musical beat master Spunk. Before this, I had heard a few demo versions of the songs, which made me writhe inside, so it has been hard to even get started to listen to the album with my really selective ears.
But what a surprise it was as I finally started listening, finding my head bopping from the first beat to the last spin. I don't know if it's because of Andreas Tillander's mastering efforts or if it's because I was in a bad mood before, but this really has it's place for a hip hop nostalgic like me.
Even if I think that the production of "Do It Like I Do It" should be reconsidered, in general this is real quality. From the jazz sound of "Sit Back and Relax" to the Pharcyde inspired songs "Keep Running" and "The Revolution Will Not Be Streamed". I sense that tilted lowrider feeling in my body and kind of glide down into my armchair.
The highlight of the album is the song that has the same title as this 11-songs-album. The song "Run Amok" really shows high quality. If you have the possibility, then you should buy a copy of this record, especially if you feel a little down and hip hop nostalgic in the autumn darkness.
Visit Porno on Myspace and Spunk on Myspace and both together in Amok on Myspace.
Here you can listen to and download a song with Porno in his band Contrahesive, consisting of Porno and Luuda.
Contrahesive has recently released their debut album "Reflection Is Relative". You can listen and download the entire album at Whoa.nu, the biggest hip hop-sajt in Sweden.
You can also listen to Porno at Sveriges Radio Metropol, spoken word