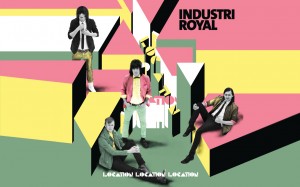 Industri Royal is a band that has understood that it takes more than producing good music to succeed. Of course it's the base of it all, but to see the whole package with band members, clothes, and attitude together with good music is a real advantage. And I think that Industri Royal has managed to put this together really well.
It's somewhat difficult to categorise the music, and therefore I decided to call it pop going 110. That is, really good pop melodies that's performed in high speed and I instantly hang on. The lyrics are political, anarchistic and about equal opportunities. Industry Royal are feminists and state that they want to open the eyes of young women to make them see that they really can change society.
The band from Västerbotten has earlier released an EP with the cool title You broke my nose, but I broke your heart. You can hear two songs and watch a video from that EP in this post.
This autumn, Industri Royal is releasing their debut album Tacky skills on Alleycat Records! The release parties are scheduled to the 6th of December in Umeå and the 13th of December in Göteborg. You can listen to the first single from the album here, Location location location.
The goal they have are "to become a great fucking band"! And I think that they doing pretty well!
Listen and download:
Location Location Location
Fuck You
Killing Tony
Visit the band:
Industri Royal on Myspace
Keep cool,
Jeppe