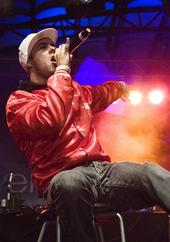 A song of contrasts is presented for me late by night. Strangely enough, it doesn't happen often these days that MC:s from the land of Falukorv, makes political statements. But with the song "Nytt Land" (New Country), Bentancourt breaks this trend by rapping politically at the same time that he, together with his girlfriend Shacko Damidez and David Silva, performs an angry song in a joyful way.
The decision about the FRA Law in Sweden this summer, made a lot of people irritated and with the hook "Släpp mitt SMS" (Release my SMS), the trio has a good opportunity to be heard across the barricades.
On the Myspace page of Bentancourt you can find a lot of good music. The track that attracts me the most is "Dansa" (Dance), which I think deserves a lot more attention. With an intro that invites you to think that Gonza is on the scene, a beat and a hook that feels like Kaah, my neck starts swinging back and forth.
I received a press release together with the song "Nytt Land", which I have presented below (translated from Swedish), as it sets the theme of the latest release from Bentancourt.
But first – the mp3:
Press release:
===========================================
"NYTT LAND" (New Country)
BENTANCOURT feat SILVA
"Det är ett nytt land sen vår integritet försvann"
(It's a new country since our integrity went away)
Whether you are angry with the FRA law or not, you won't be able to resist this year's grooviest counter-reaction!
NYTT LAND expresses anger, surprise and disappointment.
And when you're angry, sometimes it's also easy to feel powerless.
Then it's better to dance, sing and clap hands.
Turn that anger into something sexy baby!
"Släpp mitt SMS" (Release my SMS)
Martin Bentancourt is the artist and radio talker with the direct opinions. Before he has released the classic "första generationens svenne", the song that became an important voice for an entire generation.
Now he has teamed up with his girlfriend Shacko Damidez and David Silva, to create the song you can listen to when you're making the placards or blogging your opinions!
"Vill stoppa terrorister, så de stoppar mina kärleksbrev i register"
(want to stop terrorists, so they put my love letters in registers)
===========================================