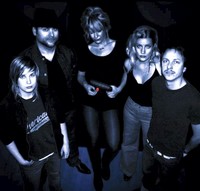 December Darling is a cool band from Malmö that plays rock with a lot of heart! They describe their music as raw and unpolished and with a simple sound.
In this rock/pop venture you can find well known people from the music scene in Malmö! The guitarist, Dennis Johansson, is a former tour manager for the Ark and Jens Andersson, from the Ark, has produced their latest EP.
December Darling is now making a serious effort on their music career and can frequently be seen on concert scenes around Sweden.
You can listen to and download two songs below, or visit their band page:
keep cool,
Jeppe
(translated by Pär/Blindmen)