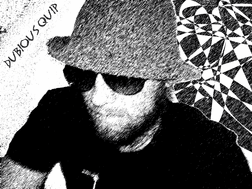 Maybe you have seen the movie Black snake moan and remember the scene where Samuel L. Jackson's character plays the song Stack-O-Lee Lee in a smoky, sweaty and dirty Mississippi bar and remember the feeling. With the song "Obedient Minds" Dubious Quip have managed to create the feeling from the after-party.
From what I know, Dubious Quip comes in several variations; a smoky, sweaty and dirty kind of modern blues, an acoustic version and also as hip hop. It's hard to put a label on Dubious Quip; and sometimes I also find reggae influences.
I like the first variation best, since I have a preference for songs where I can create my own music video in my head. Moby is a good example of this, and even if Dubious Quip and Moby are far away from each other musically, Dubious Quip also manages to create images within me. Dubious Quip is something for you who like to sit in a smoky room with a smoky whisky and feel good!
Dubious Quip – Obedient Minds
Dubious Quip on Myspace
Dubious Quip's site
He also has an interesting community where you can listen, discuss and read more.