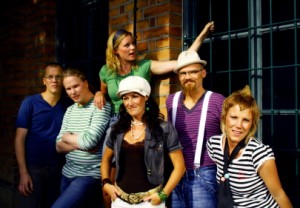 "Something like Mika hugging Håkan Hellström and chewing LSD. Emotional music with a punk attitude. A temporary remedy for depression. Unswedish."
Well, there's a lot of thoughts about Fröken Underbar. And that's where it starts. A thought become a word. And the words line up.
Sandra has a somewhat anarchistic view of how music should be written, she goes her own way and skips all so called rules. When she has found the words that descibe the most fragile point of the story, she sits down by the acoustic piano. Usually this results in drama, nerve, energy and dynamics that's hard to master.
This is a song from their debut album "Mod." They will begin recording the sequel right after summer. So, watch out for Fröken Underbar, as they move forward step by step.
You can meet Fröken Underbar on their site and on Myspace.
/Conny