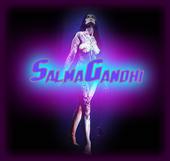 I'm sitting down with my headphones on, but I feel that I just want to get up and drift away doing some unknown dance! I want to be Travolta, but can only see myself as Uma Thurman???!!!…strange! I realize that the supercool Malmö band Salma Ghandi (just look at the name!) would fit in any Tarantino movie.
I'm sorry to say that I seldom listen to instrumental music, but when this psychedelic jazz-rock goes on and on, I just feel pure joy!
As a hot tip I can tell you that right now, Salma Ghandi is in the studio, producing a full length album. Exactly how they will realease it, is, according to the bass player Alex, not yet decided….but…how about releasing it as a free download!?
For updates about this, check out Salma Ghandi on Myspace.
Listen and download:
Loathing On the Misty Mescalin
Salma Hayek's Delayed Nipple
Keep cool,
Jeppe
(translated by Pär/Blindmen)