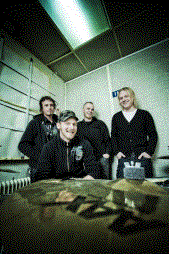 No matter how nice it is with really great massive guitars that cover your body, that feeling still intensifies when the songs are based on a guitar melody. The band Kaross performs this beautifully! There's a drive throughout the songs that carries them all the way and offers great music. Combine that with a great, hoarse rock'n'roll voice and you get magic.
Kaross have played together since 2000 and in 2005 they won a local rock contest, Partillerocken, and got the record deal that was the first prize. The album was released in 2007 through the company Eastground records.
You can listen to and download two great rock-and-rolling songs. On their Myspace page, you can listen to a pretty cool tune, "Old Vinyl", that draws your mind towards the Brian Setzer Orchestra. Unfortunately without the rockabilly guitar.
Meat Me
Bong Song
Visit the band:
Kaross on Myspace
Bandets official site
Keep cool,
Jeppe