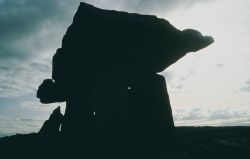 I have listened to ad dios for more than ten years now, ever since I received the fantastic album "Ancient Landscapes". I have used their music as some kind of resort now and then, away from a more stressful real landscape and into a musical bubble of peace and harmony.
ad dios is inspired by ancient cultures, preferably the celtic one, to create their atmospheric, melodic music. And sure, I can sense this inspiration, but a stronger feeling for me is the timelessness of it all that connects my inner peace with things that have always been.
ad dios is a duo from Lund with five albums in their discography. Four of them released by Theta Music. Their latest album is called "The Endless Knot" and you can listen to two tracks from the album below. Right now they are producing their upcoming album, with the work title "A Journey Through Middle Earth", a musical journey inspired by "The Lord of the Rings".
But behold, you Tolkien-fan, the ring is in safe hands. I can proudly present a track here from the new album, "Middle Earth", so that you can get a taste for what the new album will sound like.
Lean back, relax, and enjoy:
The Endless Knot
Realm of Arawn
Middle Earth
Visit ad dios' home page