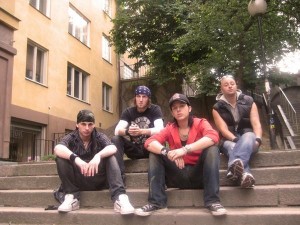 I'm sitting here, the last day at work before the vacations, with a real cold…yes, I usually save them for my vacation. With a heavy head I am going through some tips, sent to us here at Meadowmusic, and finally I land on Highride's Myspace page. Finally some music that clears up the pipes!
I'm hit by a Rock'n'roll energy that I really feel in my whole body. The singer Peter has a special voice, and sounds almost like he is swallowing the words, or like he is singing from deep inside. Together with grinding power chords from the guitars, this sounds surprisingly unique.
One comparison that strikes me is the one with Danko Jones. Maybe not with the same energy (but who can beat that?), but then again, I haven't yet seen Highride live.
Listen and download:
Fastlane
Bad Habit
Black
Visit Highride:
On Myspace
Keep cool,
Jeppe
(translated by Pär/Blindmen)