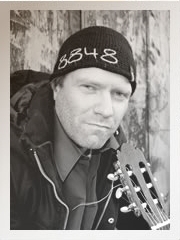 Andreas Lundgren comes back to us as "Bad Buddha", his latest album which is free for download on his home page. It is an album that's rich on influences from various sources; rock, blues, folk music, funk and a lot more; straight into a fantastic mix that I can't describe in any other way other than that it's Andreas Lundgren. I'm drawn into the songs with their driving beat, a beat that runs through everything in different ways.
I find an open Andreas, and it feels like a journey into the dark and out to the light, from separation to longing for love. And all the songs performed with Andreas special voice, a relaxed, yes, cool voice that really comes through.
To me, this is absolutely one of the best albums I've heard this year and I can only congratulate you for being able to download the entire album from his home page. There you will also find two of his earlier albums "Grande Cocktail Magic" and "Green Loafers & Husky Freaks", also free for download.
Four songs from "Bad Buddha" to enjoy and download:
Breathing Gas
Purple Wonderlight
What the Hell
Moondance Woman
Andreas Lundgren's home page "Banned From USA"