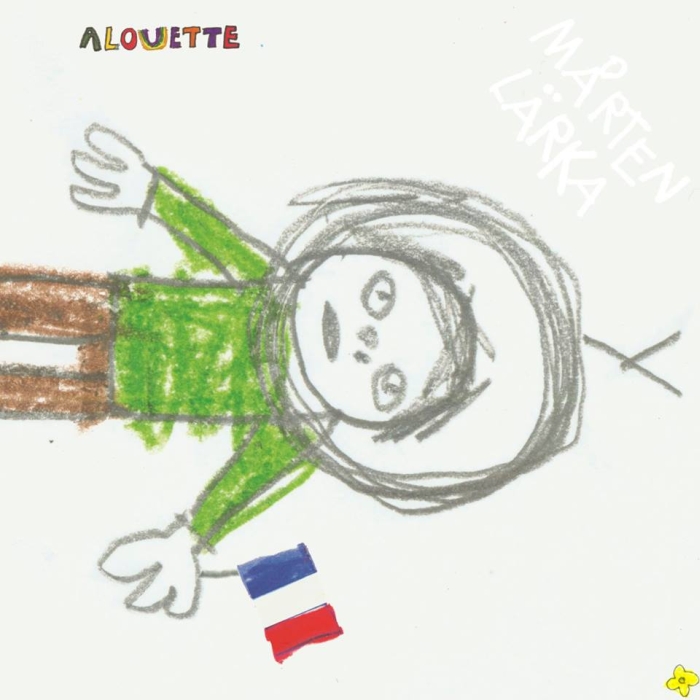 A Swedish artist releasing an album with French lyrics isn't anything you see everyday, and it's even more uncommon if he doesn't speak French and is known since before for his rock, pop and folk songs in Swedish. Mårten Lärka says that he's been addicted to French music for a long time and that he has listened a lot to everything from Jacques Brel, Serge Gainsbourg and Francois Hardy to Stereo Total and Telephone. And I understand him. Due to other writings I started listening myself to French pop and rock a couple of years ago. To my surprise a fascinating world of music opened up to me.
When pop and rock currents from the US and England swept in over France in the 60's they mingled with chanson, cabaret-traditions, world music etc and created a unique musical melting pot. I sense that they took some parts much further than in other contries, maybe because this was very much alive since before. Of course I'm thinking about the romantic side, but perhaps even more about the rebellious, provocative and defiant sides. Also humour, poetry and contemplating lyrics is something I associate with French music. Well, and then there is this thing about the language itself.
Mårten says that he heard something in French he didn't know what it was, but that got him excited even though he didn't understand the words. Something in the colours, the shades and the sound of the language. He decided to dive right into it and started from the beginning by studying Frech on his own.
"But I grew impatient and wrote pieces of lyrics before I had understood the language. It was quite a creative and fun way of learning a language, though. I rather feel like a pioneer in that area. You could apply it to any language education. I managed anyway to write som half-measured lyrics with good help from dictionaries."
"My saviour was my French-speaking friend Hamid Khodja. He helped me out with pronunciation and choice of words. But it took more than a decade before we started for real. Before that all my song lyrics was in Swedish. But after several attempts to complete a tribute song for my tomato-red Renault 4 L (Laban, Quatrelle) something clicked. It just had to be done in French and there I was back again with my dictionaries."
The end result after several years of work is the album "Alouette", a collaboration with Hamid Khodja, who has written many of the texts and also sings on one of the tracks. The album was released last year and is an earthy, downscaled blend of rock, americana, blues and French pop vibes. I hear the rock rebel inside of him as his expression changes when he's now singing in French instead of Swedish. And he does it with a spark of humour and catches this unexplainable French vibe in his own way. It's a wonderful, playful and nicely unpolished record. He proves in the opening track that it had to be done in French as "Je suis un rockööör…" really can't be expressed much cooler in any other language. I picked out three of my favourites and asked him to tell us something about the songs:
About "Je suis un rocker": "It's a translation of a song that was called "I am a rocker" from the beginning. We played it in the 90s in my band Opossum. When we changed name to The Trimatics we continued performing the song, but we never got a good recording. In 2014 I stumbled upon the first sketches from the portastudio and started playing with it again. On two tracks there were vocals/harmonica and guitars. I added drums and guitar fills on the two remaining tracks. This happened just as Hamid and I had started again and it fit like a glove to do it in French. This means that the harmonica and the rhythm guitar were 17 years old when the song finally ended up on vinyl. What else to say? Well, about the lyrics, "I am a rocker". It's about freedom and joy here as well. A naive and simple idea about seeding some love and like yourself and your life, and to be rocker once in a while."
About "C´est ma vie ´a moi": "The first lyrics Hamid gave me were "C´est ma vie ´a moi". He started from a character he thought fit with my persona. It's about living your life, with all the flaws that comes with it, without caring to much about what others has to say about it. A rather free and simple attitude to life. 'I'm neither a prince nor a king but I sleep like a king by night'."
About "Belle Quatrelle": "I am (still) very proud that I on my own managed to rhyme Volvo with Voulez vous. Belle means beautiful and Quatrelle (4L) is the French nickname for the amazing car we in Sweden call Laban. A wonderful kitschy tune full of other familiar cars, that can't be compared with Quatrelle, though. What about Porsche, Chevrolette, Citroén and the mentioned Volvo? I have written the lyrics myself but Hamid has made some corrections. After this song Hamid started writing lyrics for me. But it was "Belle Quatrelle" that started it all."
(translated from Swedish)
Mårten Lärka's site – on Facebook – on Spotify – on Apple Music