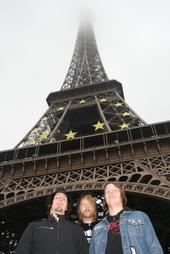 Could Skellefteå be the city that produces most bands with quality in Sweden? Well, Skumdum is another one of those. They say themselves that they are too much punk rock to be skaters and to much skaters to be punk rockers. In any case I think that they are perfect for a music lover.
Skumdum succeeds in a great way to combine the punk rock and rock with folk music (yes really), so that the result feels interesting and dynamic. I find influences in everything from Green Day, to Mano Negra. I also have a soft spot for the vocal adds, which makes it feel like singalong in the choruses.
The band sang in Swedish until around 2004-2005, but is now singing in English since they needed new challenges and also because they wanted to reach a bigger audience.
Skumdum has been around for 16 years and released 4 albums, where the latest one, "Two Sides of the Story", will be released the 28-29 of November in Skellefteå. Below you'll find a track from this album, "Proud Minority", along with a couple of tracks from earlier albums.
A big disgrace:

Skumdum on Myspace
Skumdum on Lastfm
Keep cool,
Jeppe