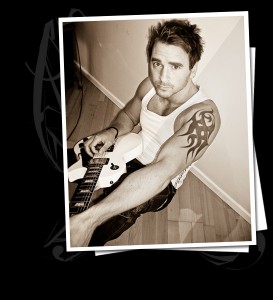 "Almost 300.000 viewers on YouTube since January – without marketing. The limited edition of the debut album Atonic Atrocity sold out – without marketing. This is the result of Nomy's releasing his songs for free on the Internet, opening up his self produced collection of music to the public. The Swedish artist from Jönköping is a tremendous success thanks to the most music friendly platform of the 21th century – WorldWideWeb."
That's what you can read on Nomy's site. I don't agree though, that it has been done without marketing. What he's doing IS marketing, and marketing that really works!
Nomy is the rocker from Jönköping, at the moment a one man band. Nomy, or Patrick Marquardt, which is his real name, records everything at home through his computer.
He's serving us a high energy rock that runs through the body in a way that the joy is pulsating right out through my skin. It is Linkin park, HIM, Danko Jones mixed. There is nice dynamics and changes between cool vocals and howls of anxiety that should make Thåström envious.
The playing is good as well as the production in itself, but it's the voice, as an instrument, that I believe is the real strength in Nomy's music. Often he's using the Marilyn Manson-"trick", dubbing a high-pitched voice with a lower one, and he's really good at this. And the way he lets himself go in the vocals makes it even stronger.
Enough said…listen and enjoy!
On Nomy's site you can download all his music for free. If you like it you can show your appreciation by pressing a donate button.

Keep cool,
Jeppe