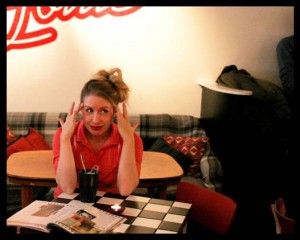 With Sarah Nilsson, singer and songwriter in the band Once Upon a Girl, I find one of those special voices that stands out and sticks to my mind. A lot of expression, warm, somewhat dramatic and with a unique tone.
This is simple and straight pop music, with influences from different sources, from classic pop from the sixties, to newer ballad pop and indie pop. There is a nice groove and it feels positive and full of joy.
Sarah tells me what she wants with her music:
"Honestly, in the moment of creation I mostly write just for myself. But the fantastic part comes afterwards, when you happen to touch someone. Therefore I have a small wish to be able to create small musical pills. Pills that goes straight to the heart of my listeners and create all kinds of chemical processes, without any synthetic substances. Happy pills, thrilling, calming and hopefully comforting pills. Quick-working pills that emphasize our sense of being alive."
The others in the band are Marika Willstedt, piano, Alexander Kronbrink, guitars, Johan Ivansson, bass och Samuel Lindberg, drums. What you can listen to below is the result of a joint process of creation that starts with Sarah:
"The songs are born at home, often from the starting point of a phrase which through lilting evolves into a melody. I hear the harmonies in my head, but what their names are I most often find out afterwards by playing my old piano, which I've played (rather badly, I might add) since I was eight. A method of songwriting that works perfectly when your main instrument is your voice.
At this point I present my songs to the band. The lyrics are written on a piece of paper with the chords annotated above the words. I start to sing and they join in and afterwards we marvel over what we have created that day"
"Not Over You" (produced by Peter Wirén)

Listen to four songs with Once Upon a Girl. All lyrics and music by Sarah Nilsson exept for "Paper Doll", where Alexander Kronbrink helped out with the music.
My own favourite is "Rebecca's Song, what's yours?
Oh No Not Again
Not Over You
Paper Doll
Rebecca's Song
Visit Once Upon a Girl on Myspace