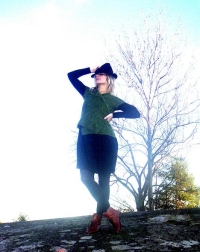 About voices then. There are singers you admire and who impress you by their sheer power and/or range, and/or technique – the vibrato, that awesome wailing…but whom you never quite manage to embrace because they lack something else, something less easy to define, if it's not simply enough the feeling I'm fumbling for, it's as if they know better than most how to do it but never really grasped the why, so to speak (Whitney Houston, Celine Dion, Carola, Tommy Körberg, although these examples are only generally valid and are of course based entirely on my own personal listening; the listener not being altogether unimportant in the field of song and music, after all it's in hers or his ears and head it's all happening, or not happening if you will…)
Anyway, on the other side we find those singers most voice coaches would regard hopeless, or "storytellers" rather than singers, but who according to their fans are the really stylish ones, because they sing with so much more than diaphragm and lungs and vocal chords, artists that in an instant can lose themselves in the words and almost mystically make them live. No matter where they went the night before they always instinctively know why they're singing and therefore can't ever fail (Dylan, Björk, Lundell, Hellström; well yes I know they too stumble every now and then but allow me some generalization, footnotes are so dull).
Then a few rare voices just are all nice and natural, voices to somehow lean back and heal in, more about hunches and identification than power or impression; it's not as if you know them – you are idiotically sure that you do.
There it is, I believe I've managed to nail some small part of the fascination I've felt ever since I first heard Miss Allena a few years back. We've never met but she's my best friend and my sister. Welcome to the family!
Here are two of my favourites, one in that inimitable missallenish swenglish, and one with lyrics by Nobel Prize winner Pärre Lagerkvist, who in my mind finds his final interpreter here. And don't forget now to enjoy those ingenious minimalistic arrangements as well!
Var är den djupa glädje som jag söker?
By the Water
Visit Miss Allena and listen some more: