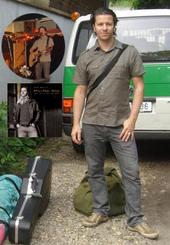 Ever since I heard "Didjerama" with Jamiroquai the first time, I've been a fan to didgeridoo playing. I made som brave attempts to play myself, but I never really managed the circular breathing…
Lars Wallin and his tribe invites you to great didgeridoo based music. With this chewed out eucalyptus tube, you can produce incredibly cool sounds by blowing, talking, shouting and whatever you like to create music. The songs below shows a lot of different techniques.
It's a wonderful mix of music that you can listen to here; everything from three chord punk rock to back beat reggae.
Lars Wallin also has a very characteristic voice, that sometimes sounds like a mixture of Dylan and Manu Chao (it's bound to be unique then;-))
Lars has been on tour frequently and visited most parts of the world. He has also played with Chris Bailey.
Listen and download the songs:
Dopper Day
My Safetypin
Tell Me Why
Visit Lars:
Lars Wallin on Myspace
Keep cool,
Jeppe