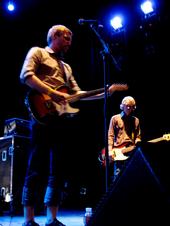 I know it's maybe a month away or less, but imagine a fierce autumn night when the winds blow cold and hard. You come into a warm house and sit down in your favourite sofa and long for summer. But when you listen to the melancholic and beautiful melodies from Amandine your thoughts just stop wandering away and you start enjoying the present.
With a mix of Swedish folk and americana arrangements, edged by vocals not far away from José González , Amandine brings impressions and warmth that digs deep into my soul.
The band begun 2001 in Sandviken, Sweden, under the name Wichita Linemen, but moved to Malmö in 2004 and changed their name to Amandine. In autumn 2004 they got a contract with the Brighton label Fat Cat Records, and 2005 they released the debut album "This Is Where Our Heart Collide".
After this the band has released some EP:s and a second album, and toured around Europe and in the USA.
Here's a video clip from Amandine's concert in New York 2005:

Enjoy some songs from Amandine:
Heart Tremor
Secrets
Soldiers Hands
Visit the band:
Amandine on Myspace
Keep cool,
Jeppe