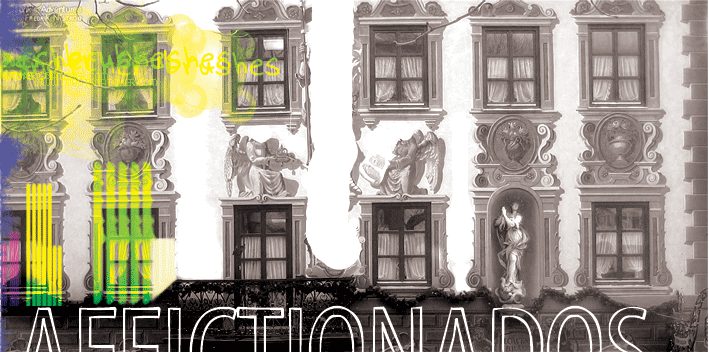 Around 1995 Carl Nordström started to play with music software and synths. After experimenting for a while through techno, house, drum n bass, hip hop, he finally found his own sound expression and the road that awaited for him.
Affictionados, like sub-tunnel beats, swept in city noise and that could have been created from the concrete from the big city.
The songs have a common melancholy that may be compared to The Cure dressed as Elvis Costello. A dark, heavy experimenting electronica vs hip hop brings me to the depth of what is expected from a beat maker. Carl has worked through the album "Affictionados" with the production and the arrangements. But the real spin is guest plays from musicians and artists from all over the world, like Kissey Asplund, Séamus, Crippual, Tessa Saxell and Torin Williams.
Download the entire album >>Here! (for free!)

I'm really turned on with the opening song, "Baby", with a delayed drum loop that stands out in the the hip hop sampler arena. The songs shift, change and swap strategies; never far away from the main theme, but all the time innovative and lead to
The door of the lounge bar with the song "Always and Always", considering a more monotone way of walking, to be in the background, sitting in the sofa and the closing time for the bar. But something happens as Kissey Asplund starts to sing about 2:43 in the song. A fresh warm tone that colours the arrangement mustard yellow. She is good! Really good!
What are you working with now?
"Today Affictionados stands for itself like a project where I have worked with a number of different styles, that I can't name anything else than "beats". I sample all kind of music I find and that I feel have that extra special, and I put it together into something that I would like to call my own.
Right now, I'm working with a record that's hopefully finished by the end of the year. Besides that I'm turning records at CAFÈ RASOIR in Malmö with a DJ-crew called OH NO, NO DECKS."
In my opinion Carl is a fantastic producer that's ahead of his time. I'm looking forward to what's being melded together for the years to come.
/Jamin
Baby
Always and always ft Kissey Asplund