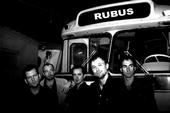 If you enjoy getting happy – raise your hand! As a little help on the way, you can listen to the Stockholm based band Some Kind of Rubus. They offer folk music wonderfully mixed with rock! The vocalist Emil Gammeltoft is a former heavy rock singer, from the band Nerved. Having played rock for 18 years – and with a lot of folk music in his head – he started Some Kind of Rubus, with Petter Axelsson and Örjan Johansson, at the end of 2005!
And it is now time for Some Kind of Rubus to conquer the world. Their first conquest lies in the land of folk music, Scotland, where they have already received a lot of attention, e.g. in scottish radio!
Emil says that a Scottish tour is planned for October.
Listen and download:
Microphone
Hippo
Mother
Hälsa på hos Some Kind of Rubus:
SKoR on Myspace
Keep cool,
Jeppe
(translated by Clint Hell)