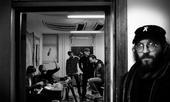 I'm sitting here in the light of the night lamp, which right now is whiskey coloured. But gee I feel good…well not only from the sweet drops from Ardbeg, more, I would say, from the sweet tones from the Gothenburg-Borås band Giant Wide.
I'm looking for influences from the psychedelic blues of Roky Erickson and from Soundtrack of our lives, where Ebbot's vocals are more of an instrument than just vocals. But I have to say that Giant Wide sounds like Giant Wide and not like anything else. I feels like this great band has found their own unique style.
THIS IS SO GOOD!!! (whoops, the whiskey voice came through)
This is grinding guitars and a drummer that really has to fight to be heard, but really succeeds in the end. The vocals are sometimes really distorted, but is mixed into the songs, not just like "normal" vocals, but like it's an extra instrument and offers an incredible feeling to it.
Enjoy the songs of Giant Wide:
See the Road
Our Time Is Coming
Go and Get Done
I'll Leave You Here
Visit the band:
Giant Wide on Myspace
Keep cool,
Jeppe
(translated by Pär/Blindmen)