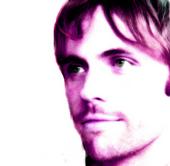 Alla artister som presenterats här inne är låtskrivare och kompositörer som också framför sina alster. Tobbe Möller är en låtskrivare och kompositör som endast sjunger sina låtar av praktiska skäl, som han själv uttrycker det.
Det är något speciellt med Tobbe Möller, något övernaturligt, kanske något gudalikt! Han kan på riktigt vara världens bästa låtskrivare, men jag är inte övertygad om att han vet det själv ännu.
Jag ser Tobbe som en älva iklädd i ett skal som inte är helt enkelt att tränga igenom. Men precis som Tingeling strör älvglitter(eller vad det nu är) över människor som behöver det, gör Tobbe liknande över sina låtar.
Det är texter som är otroligt bra och starka, smarta harmonier och ackordvändningar samt melodier som är på världsnivå!
Det som du får höra och ladda ned här är dels ett tidigt alster, "Too Hard to Chew", samt två senare där Tobbe samarbetat med andra musiker. I "Young Boy In the Far Back Row" har Tobbe arbetat tillsammans med Lasse Söhr och tagit hjälp av Isak Strand på sång.
Utöver dessa har Tobbe samarbetet med många andra musiker och låtskrivare, där Pär Edwardson, Aurgrunn och Pär Enqvist kan nämnas.
Tidiga alster av Tobbe Möller har en känsla kvar från gamla rock/punk genren med en pumpande Rickenbacker-bas och härliga körer; lyssna gärna på Purple Foxglove, på hans Myspace-sida. Växla sedan snabbt över till Tonårsbarn och lyssna på bredden som finns i musiken!
Är du intresserad av Tobbes musik eller vill ha ett samarbete med honom, besök hans Myspace-sida.
Njut nu lite av låtarna som bjuds här:
Lose Your Head
Young Boy In the Far Back Row
Too Hard to Chew

Hälsa på hos Tobbe Möller:
Tobbe Möller på Myspace
Keep cool,
Jeppe