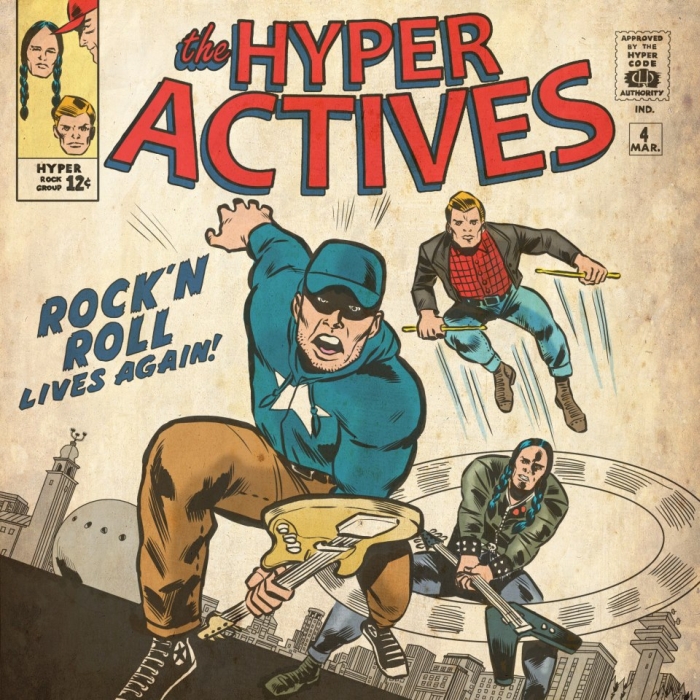 För några år sedan (2005) förkunnade The Hellacopters att Rock & Roll Is Dead på albumet med samma namn. Stockholmsbandet The Hyper Actives har dock dragit på sig sina superhjältedräkter för att återuppliva genren på albumet "Rock'nRoll Lives Again". Och när de i hög fart kommer farande i sin Hyper-Active-mobil, fullproppad med bränsle i form av adrenalin, spelglädje och rockenergi, så är jag benägen att tro på dem. Jag headbangar inte, men det känns i magtrakten, jag sjunger direkt med i de enkla catchiga refrängerna, armar och ben börjar röra på sig och jag skålar energiskt med vännerna så att ölen stänker ut över våra kläder från ölflaskorna.
Visst finns det gemensamma drag med just The Hellacopters, kanske mer från de gemensamma rötterna än från att de låter som dessa. 80-talets glamrock skymtar förbi i energin och melodierna, men mest känner jag fläkten av den raka treackords-rock och -punk som en gång fick mig att ta fram luftgitarren på pojkrummet och drömma att jag var rockstjärna, lyssnande och sjungande på "High Voltage", "Sheena Is a Punk Rocker", "Wine Women and Song" eller varför inte "Tutti Frutti"?
The Hyper Actives består av trion Jonte Skogsbrand (gitarr, kör), Jens Holst (sång, bas) och Danne Berg (trummor). De planerar att släppa ytterligare två EP under våren med material som de spelade in samtidigt som albumet, och i sommar påbörjar de inspelningen av nästa album.
The Hyper Actives på Facebook – på Spotify – på Soundcloud