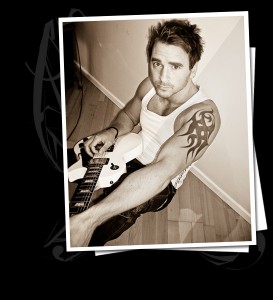 "Almost 300.000 viewers on YouTube since January – without marketing. The limited edition of the debut album Atonic Atrocity sold out – without marketing. This is the result of Nomy's releasing his songs for free on the Internet, opening up his self produced collection of music to the public. The Swedish artist from Jönköping is a tremendous success thanks to the most music friendly platform of the 21th century – WorldWideWeb."
Detta går att läsa på Nomy´s hemsida! Det enda lilla fel jag kan hitta är att han skriver att det är gjort utan marknadsföring. Det han gör ÄR marknadsföring, dessutom en marknadsföring som bevisligen fungerar!
Nomy är rockaren från Jönköping som för tillfälligt är ett enmannaband. Patrick Marquardt som Nomy egentligen heter, gör all inspelning hemma vid datorn!
Vi bjuds på en högenergi rock som sprider sig genom kroppen på ett sätt som gör att glädjen pulserar ut genom huden. Det är Linkin park, HIM, Danko Jones om vartannat. Dynamiken är skön och svänger mellan sval sång till ångestvrål som borde göra Thåström avundsjuk.
Instrumenteringen och inspelning är bra men det är sången, som instrument, som jag tycker är Nomy´s styrka. Han använder sig ofta av Marilyn Manson-"knepet" att dubba en låg stämma med en hög och lyckas bra med det. Även att han faktiskt vågar ge sig hän i sången gör att han vinner mark.
Enough said……lyssna och njut!
På Nomy hemsida kan du ladda hem alla hans musik gratis. Glöm inte att det finns en donera knapp om du gillar musiken!
Nomys officiella hemsida
Cocaine
Freakshow
I Miss You
Keep cool,
Jeppe