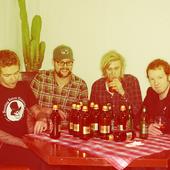 Jag gillar ju det där med "fuskfemmor" som glider över gitarrhalsen och en slinga som dansar ut från massan! Bad Poetry Band bjuder på detta i rock´n´roll med riktigt hög energi!
Det är så här jag minns Fireside eller Backyard Babies på sent 90-tal! Vare sig det är långhårigt, skäggigt, eller välkammat så är musiken rak, ärlig och skön!
Även om Bad Poetry Band är ett tajt välspelande band så är det ändå sången från Mula som sticker ut! Han vräker ut orden på bästa Dave Wyndorf sätt! Lyssna på Home of the brave så förstår Ni vad jag menar!
Det är även den låten som det bjuds video på:
Så kör igång i släng med håret nu! (och vi som har dåligt med hår får vicka på rumpan):
home of the brave
dudes and dudettes
just a little

Hälsa på hos bandet:
Bad Poetry Band på Myspace