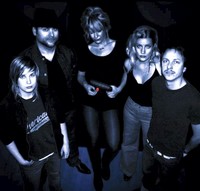 December Darling är ett coolt Malmöbaserat band som spelar rock med mycket hjärta!
DD beskriver själv musiken som rå och opolerad med ett enkelt sound.
I denna rock/popsatsning kan man hitta människor från Malmös kultur och musik scen! Dennis Johansson på gitarr är förre detta turnéledare för The Ark, och producent för deras senaste EP är Jens Andersson från The Ark.
December Darling satsar med full kraft på sin karriär nu och kan flitigt ses runt om på Svenska scener!
Lyssna och ladda ned två låtar här, eller gå in på deras sida:
December Darling på Myspace
keep cool,
Jeppe